Rolston String Quartet
Quartet
---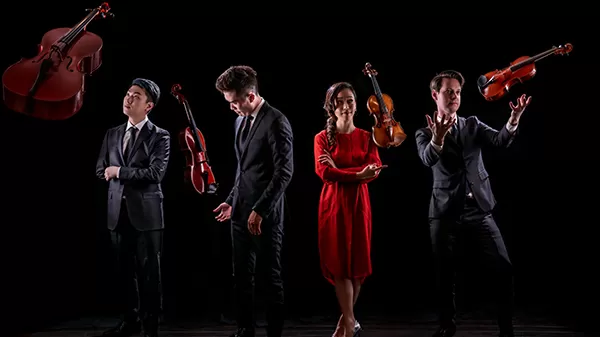 Luri Lee, Violin
Jason Issokson, Violin
Hezekiah Leung, Viola
Yoshika Masuda, Cello
With their debut album Souvenirs, an all-Tchaikovsky release that was recently named Recording of the Month by BBC Music Magazine, Canada's Rolston String Quartet continues to receive acclaim and recognition for their musical excellence. The quartet was awarded First Prize at the 12th Banff International String Quartet Competition, and was the 2018 recipient of the Cleveland Quartet Award from Chamber Music America—the first international ensemble chosen for that prestigious honor. Other accolades include Grand Prize at the 31st Chamber Music Yellow Springs Competition and Astral's National Auditions.
The quartet's recent highlights include debut performances at Carnegie Hall, Wigmore Hall, The Freer Gallery in Washington, DC, and Chamber Music Houston, as well as two major Canadian tours under the Prairie Debut and Debut Atlantic touring networks and three European tours with dates in such cities as Leipzig, Berlin, Lucerne, Heidelberg, Barcelona, and Graz. Their most recent season included concerts at UCLA's Herb Alpert School of Music, Texas Performing Arts, Chamber Music Northwest, Calgary Pro Musica and the Louvre Museum, with additional scheduled performances at the chamber music societies of Detroit, Fort Worth, Kansas City, Philadelphia, and Vancouver. The quartet's artistry has been praised in Süddeutsche Zeitung for its "delicacy, slender elasticity, impeccable intonation, and such eminent sense of tonal balance…This is a new bright star on the truly not empty string quartet sky of our day."
Notable collaborations include performances with renowned artists Janina Fialkowska, Gary Hoffman, Nobuko Imai, Miguel da Silva, and David Shifrin, as well as the St. Lawrence and Dover quartets. The quartet is an associated artist at the Queen Elisabeth Music Chapel in Waterloo, Belgium, and previously served as the Fellowship Quartet in Residence at the Yale School of Music. Previously, they were the graduate quartet-in-residence at Rice University's Shepherd School of Music. Keeping in the teaching tradition, they have taught at the Yale School of Music, University of Toronto, and the Bowdoin International Music Festival, among other institutions.
Their primary mentors include the Brentano Quartet, James Dunham, Norman Fischer, and Kenneth Goldsmith, and they have received additional guidance from the St. Lawrence String Quartet, Barry Shiffman, Miguel da Silva, and Alastair Tait.
The Rolston String Quartet was formed in the summer of 2013 at the Banff Centre for Arts and Creativity's Chamber Music Residency. They take their name from Canadian violinist Thomas Rolston, founder and longtime director of the Music and Sound Programs at the Banff Centre.
Luri Lee plays a Carlo Tononi violin, generously on loan from Shauna Rolston Shaw. The Rolston String Quartet performs on the Eugène Ysaÿe quartet of instruments. The set was made by Samuel Zygmuntowicz, and is on generous loan from the El Pasito Association. The Rolston String Quartet is endorsed by Jargar Strings of Denmark.