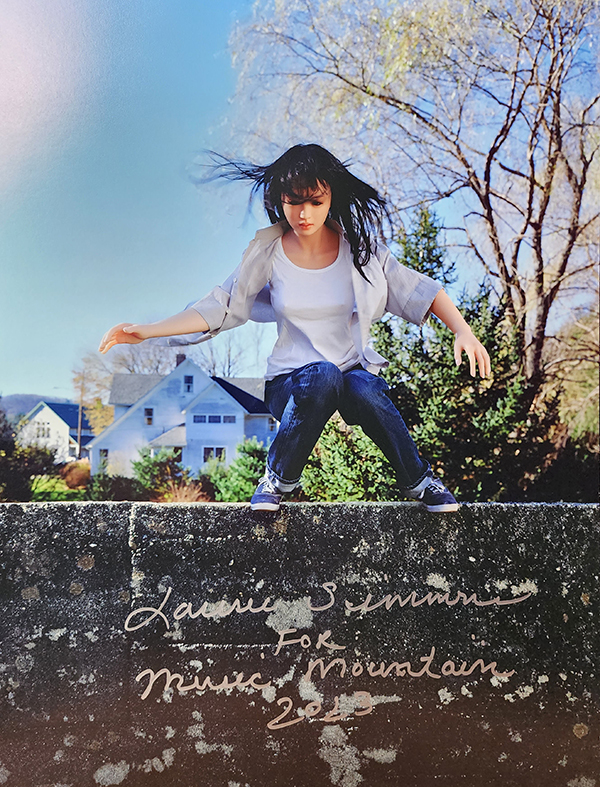 The Love Doll/ Day 25 (The Jump), 2010
Laurie Simmons Limited Edition Artist-Signed Poster to Celebrate Music Mountain's 94th Season Theme, 'Home and Belonging'

Edition Number: 50
Dimensions: 14" x 18.7"
Print Type: Archival Pigment Print on Rag
Pricing: To benefit Music Mountain – $200 at Music Mountain on concert days (in cardboard envelope), or $220 with shipping and handling.

PLACE YOUR ONLINE ORDER HERE

Music Mountain is producing a limited edition of Laurie Simmons artist-signed posters to commemorate its 2023 season theme, 'Home and Belonging.' This is a collectors' piece, signed by Laurie Simmons on the front, and stamped in the back ("Poster for Music Mountain Summer Festival, 2023, Falls Village, Connecticut") to benefit Music Mountain.

Much of the work by American artist, photographer and filmmaker Laurie Simmons is about the role of women in society. Her work has been presented in New York at the Metropolitan Museum of Art, Solomon R Guggenheim Museum of Art, Whitney Museum of American Art, Jewish Museum, and at other museums including the Corcoran Gallery of Art (Washington DC), Museum of Contemporary Art (Los Angeles, CA), and Hara Museum (Tokyo).

​​​​​​The Love Doll/ Day 25 (The Jump), from Simmons' Love Doll Series (Photograph, 2010) depicts a key moment in every artist's path to 'Home and Belonging': the escape from one's own home, the fearless jump into the unknown, the search for a new world of possibility. One can feel the energy of Simmons' "Jump" in many of the women composers and artists in our stellar 2023 Music Mountain Festival, from composers Fanny Mendelssohn, Tina Davidson, Gabriela Lena Frank, Vivian Fung, Caroline Shaw, Eleanor Alberga, and Clarice Assad; to ensembles such as the Cassatt String Quartet; pianists Judith Gordon, Anya Alexeyev, Victoria Schwartzman, Simone Dinnerstein, Vanessa Perez, and Ursula Oppens; and Jazz artists Wanda Houston, Maucha Adnet, Barbara Fasano, and Kellin Hanas.